9 Chests Unboxing – Clash Royale (Got 1 Legendary & Very Few Good Cards)
See how I oped 9 chests in 1 video! Super Magical, Magical, level 10 Clan Chest, Crown Chest, Two Gold Two Free, and One level 7 Tournament Chests!
Few days ago I got a Super Magical Chest from the drop cycle (after 387 wins). Right before that I got a Magical Chest. SO I decided to not open them one at a time, but save them, until I have a maximum 9 unopened chests. So here you can see what kind of cards I got and how much gold.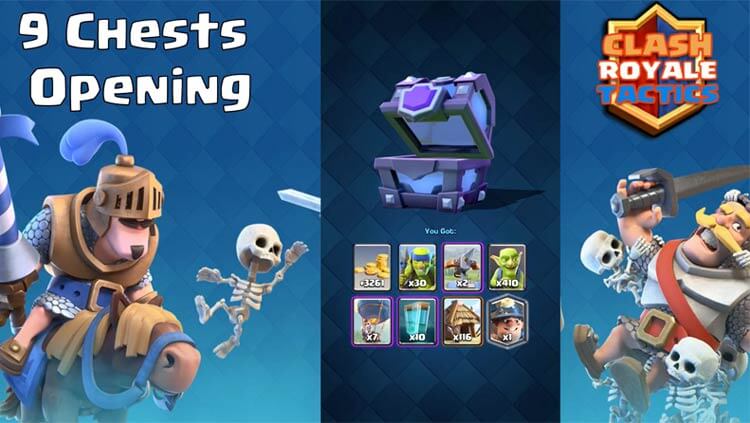 Get FREE MAGICAL CHEST Gift from the shop to celebrate 1 year Clash Royale Anniversary – expires Mar. 17, 2017. Get it while supplies last 🙂

I did not buy a single one of those chests. I did once buy a legendary chest for 500 gems, but got complete cr@p – only 1 graveyard card – no gold, no other cards 🙁
9 Chests Unboxing
So I got a lot of gold, and many ok cards, but VERY FEW cards that I actually wanted, needed or used in my deck, which I show in the video. I did get one legendary card (miner), and few cards for my deck – about 20 in total… but after opening 9 good chests, I still could not upgrade even one card in my primary deck!
You almost NEVER get good cards
The reality is – you will rarely get cards that you need. I believe the way supercell knows what cards you have in you deck, and when you open chests they give you 1-2 good cards, to keep you on the hook, and mostly garbage that you don't need, so that you come back and buy more chests/gold/gems, and bring in more profit for them!
My take on this – I will not spend a single cent of my real money any more. I will use my Free Gems credit every once in a while to get special offers (last time I bought $10 offer – 1200 gems, 100,000 gold + Super Magical Chest special offer when I got to Arena 8).
Now I'm waiting for the Legendary and Epic Chests 🙂
|