Bandit Draft Challenge Starts Today – 3 days ONLY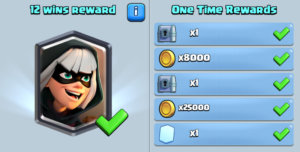 Everyone ate Level 8+ king tower can play in Bandit Draft Challenge, starting at midnight today. First play is FREE, and then it's 100 gems.
You get half the gold and cards of Grand Challenge tournament, but at 2, 4, 6, 8, and 10 consecutive wins, you get a 1 time prize. At 6 wins you get a Super Magical Chest.
At 10 wins in a row, you get a 1-time prize – Legendary Card – most likely the bandit 🙂
Here is my 1st play (I got only 3 wins, and my 1 time prize was gold chest):
The way it's played is like a regular draft challenge game – you pic 4 cards, and your opponent does the same. However, here you can also get the BANDIT (a new card) and of course the 1 time prizes which is great!
BTW, 1 time means not one time per attempt, but only 1 time 🙂
New Gard: Bandit
Bandit is a slow moving card, that charges nearest enemy and does high damage. However, because of low hit points, it's best to use it against targets that are already involved in a battle, so you don't loose the bandit fast. For example, if Princess is attacking your tower, you can one-shot her with bandit.
Honestly, I'm not impressed with this new card, but maybe I'm not that good a player 🙂
While I don't recommend playing this for 100 gems, you should definitely use your 1st free pass!
Good luck, and tell me how far you got.
|