[UPDATED] Clash Royale BUG Steals Your Money on Play Store (GEM BUY FAIL – Jan 25, 2017)
A BUG in Clash Royale "STEALS" you Google Play credit when you try to buy Special Offer "Featured Offer – Gold & Gems Pack" for $0.99. I tried to buy it 2 times, $1.98 was taken from my account – no gold and no gems! 🙁 🙁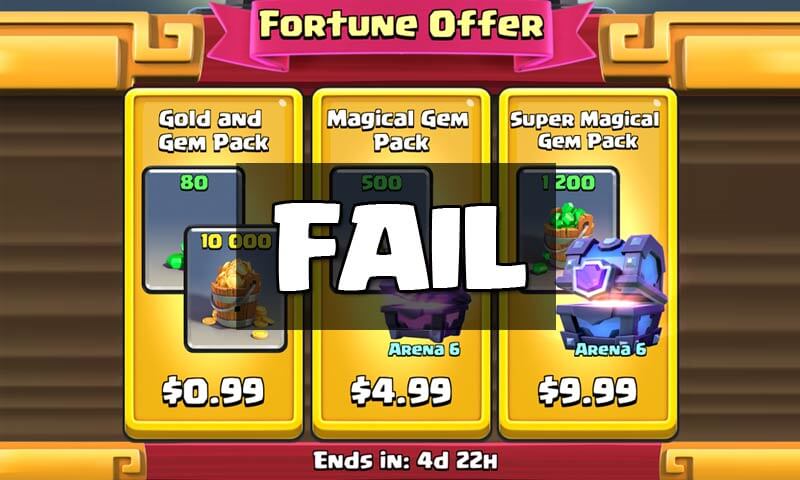 Long Story: I made it to Arena 6 and when you achieve new Arenas, there is usually a special offer for limited time. So I tried to buy one for $0.99 …
It would give me 80 Gems and 10000 Gold – a Featured Offer – Gold & Gems Pack.
But there is some sort of bug with his offer, and after 2 attempts to buy this, the money left my account, but I did not get the gems or gold. Now keep in mind this is only on Android Play Store – I can't confirm this issue on App Store (probably its not there).
Here is video proof of my 2nd attempt
So basically my advice – while these special offers seem great, they may be buggy, and it would really suck if I tried to buy the Super Magical Chest Gem Pack for $9.99 and it would fail…
I will try to get a refund for this, but it is a sweet deal… especially that I used my credits that I earned with FreeMyApps instead of spending real money to put in my Play Store account.
In any case – I hope SuperCell fixes this bug soon, but I will not try to buy this again … fool me once – shame on me, fool me twice shame on you… fool me 3 times – I'm a real idiot… and I'm not 🙂
UPDATE – Problem Fixed:

So after few hours, I got email from Play Store, that my 2 initial purchases were canceled and refunded.

I was also able to successfully purchase this item for $0.99 on the 3rd attempt.

It is a 1 time purchase and I cannot buy it 2nd time. See video below.
Here are the screenshots of Refund Email and Successful Purchase Email from Play Store, as well as Gems + Gold added to my account!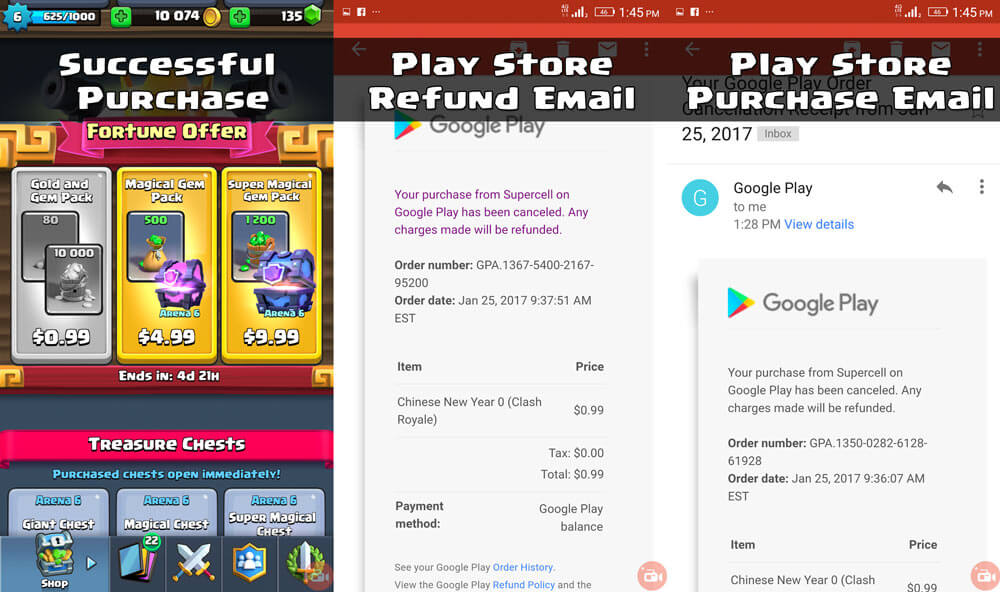 So I guess SuperCell quickly realized they are having issues, or got too many complaints. Bottom line – they were loosing tons of money on unsuccessful purchases and fixed the problem promptly!
With that said – happy Clashing!
|